Integrated Brand Development- IBD
About IBD
In today's hyper competitive age where market dynamics change at the speed of light, brands need a new breed of agencies. A breed that finds the right creative solution at the pace the market demands. Again and again and yet again.
IBD is such a new age agency.
At IBD, we have built brand equity for our clients not just at rapid pace but also through campaigns that enable the client to achieve marketing efficiencies which give the brand a resource advantage. Perhaps that is why at IBD we have won many a prestigious account in the face of stiff competition from marquee names of the advertising world. In some cases, even when the competing agency has a global alliance working for it.
How do we do what we do?
We believe there are two factors that enable us to deliver consistent results for our clients:
Not just 360 degree integration, 360 degree integrity
With shrinking attention spans and proliferating media choices, it has become very important for a brand to reach out to its target audience through every relevant media and every touchpoint. But just a 360 degree campaign is not enough. It is key that all messaging from the brand coheres to the same core brand DNA and achieve synergies that maximize effectiveness and efficiency: in other words 360 degree integrity.
At IBD, we ensure 360 degree integrity by building specialist divisions that bring the best-of-breed specialist solutions, orchestrated by an integrated account management team and supervised by an integrated team of creative directors. 
IBD's Specialist Divisions:
By Design: Brand & Corporate Identity Programs, Environmental Graphics, Retail & Experiential Design and also Packaging Design.
iDigital: Online Advertising, Social Media, Digital Marketing and SEO.
Rabid Films: Ideas to Scripts to Films to Business.
The IBD Way: Conversation. Cogitation. Creation
The second reason why we deliver consistently for our clients is because of a unique method that enables us to deliver effective creative solutions at speed.
The IBD Way is a three-step iterative process that rapid scans all possible strategic and creative routes and lasers on to that one most effective and efficient solution.
The IBD Way has delivered time and again because it is organic in nature, allowing for everyone - the client, the planners and the creatives, to get on to the same page quickly. This shared strategic vision then catalyzes high quality creative work.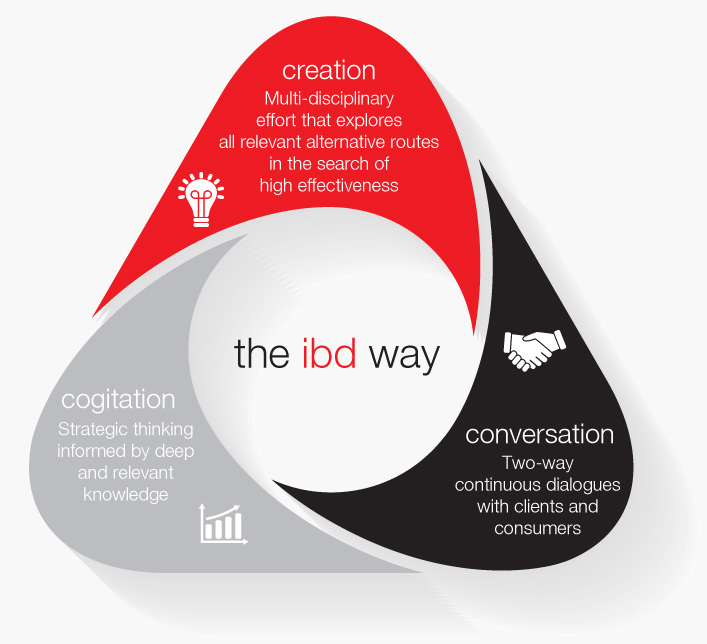 Conversation with clients: At IBD, we evolve the client's briefs through intensive client interactions, in order to clarify and synergize the business, marketing, and brand & communication objectives. Beyond briefing sessions, our clients are involved in the strategy and creative development process through interim reviews and result monitoring.
Conversation with consumers: At IBD, we go beyond market research in our effort to understand the Indian consumer better. We mine consumer insight. This is done by spending quality time with individuals from various age groups and social strata, during which we engage them with conversations on issues that interest them. These interactions are then formally analysed to add to a body of insights on how consumers shop, how they make category and brand decisions and the role that advertising and other forms of marketing communications play in their lives.
Cogitation: Our strategists combine deep and relevant knowledge of the client's business, the market category and the consumer with the use of sophisticated planning tools. The IBD edge of planning is in the fact that lateral thinking is an integral part of the planning process, giving it that crucial sixth degree of freedom in the rapid scanning of strategic options. Reflecting this showcases that our creative team is an integral part of the strategy development process.
Creation: We do not believe that the creative process is a mystical, individual-driven process that works on the generation of brainwaves. To us, the development of effective marketing communication is a result of creative teams from various disciplines - art direction, copy writing, film-specialists, digital artists - working closely and iteratively with strategists and experts both in the agency and the client team.
To sum it up, the IBD Way brings a unique focus on the creative nature of the strategy development process and the strategic nature of the creative development process.
People
Mr. Rahul Gupta

Managing Director & Chief Creative Officer
Email:
rahul@ibdbrands.com
Mr. Mandar Wadke
National Creative Director
Mr. Anand Halady
Sr. Creative Director
Mr. Ashoke Agarrwal
Strategy Adviser